How we work
Quick links
How information is shared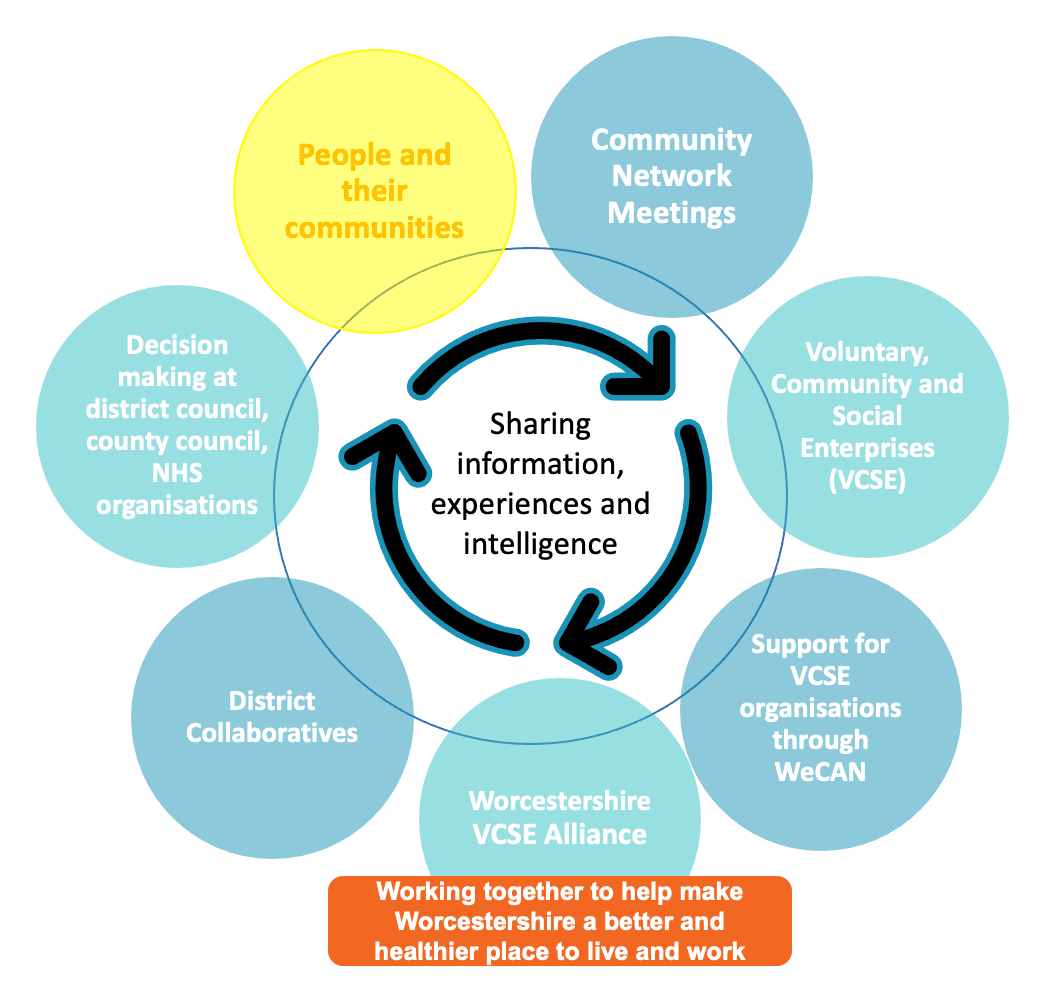 Working with WeCAN and Simply Limitless
Each district has its own organisation dedicated to supporting volunteers, grassroots community action, local groups and small charities. These organisations have formed a network called WeCAN – Worcestershire Community Action Network. Often described as the VCSE's 'ears on the ground' – they have unrivalled reach into communities and are uniquely placed to understand health and wellbeing issues faced in their communities. With no current local infrastructure organisation in Wyre Forest, we are working with Simply Limitless, a wellbeing centre in this district.

What are WeCAN and Simply Limitless doing to help the Alliance achieve its mission?
Championing the aims of the Worcestershire VCSE Alliance
Organising regular information sharing networks
Disseminating key information to local networks
Collating local intelligence – service information and impact of smaller VCSE organisations
Playing a key role in District Collaboratives
Representation
Representatives from the VCSE take information and intelligence collected from their geographical or service areas to a range of boards and assemblies, at system, place and neighbourhood levels. Being part of these meetings is a key mechanism for influencing decisions about services and support for local people and their communities.
VCSE Alliance Representatives require skills and experience in the relevant area of the subject meeting they are appointed to, as well as a personal commitment to contribute as part of a collaborative approach to the future needs of Worcestershire. The Alliance has a Representation sub-group that oversees the management of this process.
New opportunities for board representation will be shared via the Alliance newsletter and Alliance website news pages.
Workstreams
Integrating VCSE & NHS Primary Mental Health and Wellbeing
This programme aims to 'shape community mental health pathways and have the capability and capacity of delivering mental health interventions in collaboration with statutory sector partners through a population health management approach.'
We are working with NHS services to support people with mental health and wellbeing challenges to reduce demand on primary mental health care, improve waiting time experience and optimise treatment. We:
Offer support during waiting times for therapeutic intervention
Offer one-to-one and small group activities for individuals on waiting lists
Investigate ways in which the VCSE sector can support individuals with mental health challenges
Address the wider reasons for poor mental health and wellbeing
This work is being funded by Herefordshire and Worcestershire Health and Care Trust
Rapid Hospital Discharge Project
A partnership led by Age UK Herefordshire and Worcestershire is developing a VCSE Rapid Discharge Framework Model to support people coming home from hospital with:
Meet and greet on arrival home
Ensuring home is safe, clean, heated and welcoming
Ensuring access to food and basic provisions including the purchasing of essential supplies
Collection of medication
Install of small aids such as key safe or grab rail to ensure home and patient are safe
Help with housework and laundry
Shopping collection/online shopping set up
Onward referral for specialist support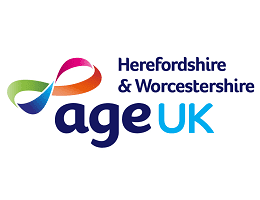 Understanding & Strengthening Worcestershire VCSE Sector
A multi-agency steering group is developing a research project to help achieve our vision of a stronger VCSE Sector working together effectively to deliver excellent services aligned to need. The research will:
Develop a robust VCSE Strategy
Develop future services more effectively
Provides evidence for Commissioners and Funders
Ability to produce more robust impact reporting
This work is being funded by Worcestershire County Council